Arkansas Head Start
Details

Last Updated on Thursday, 22 February 2018 23:03
Hits: 2276546
2018 Outstanding Arkansas Early Childhood Professional
Since 1988, the Division of Child Care and Early Childhood Education has awarded deserving individuals as the Arkansas Outstanding Early Childhood Professional of the Year. To further distinguish the significance of the award and its recipient, starting this year, only one award winner will be selected. To be considered for this honor, nominees must meet the following eligibility and qualifications requirements:
v Be a teacher in an early childhood classroom (birth - 4 years old) for a minimum of 3 years
v Be employed by an Arkansas licensed provider in good standing
v Meet minimum licensing requirements for child care staff
v Plan to remain working in the early childhood field through December 31, 2019 at a minimum
v Agree to have a classroom observation and interview conducted
v Agree to serve as an Early Childhood Ambassador
Nomination forms must be received no later than 5 pm on February 28, 2018.
Click here to access the nomination form
Click here to access Association Meeting Handouts: January
We invite you to attend:
Congratulations to Jackie Govan on being recognized by AECA for Black History Month.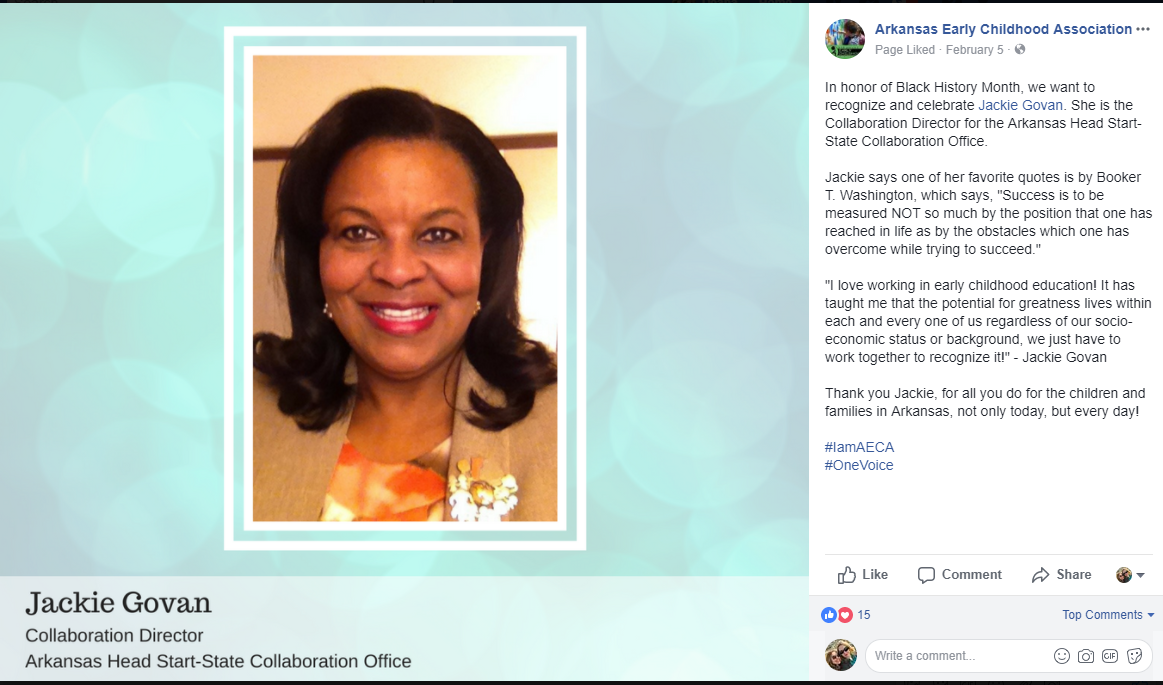 Click the images below to access information/documents:
Jacqualine Govan
Deana Howell
Collaboration Director
Admin Services Mgr