Economic Opportunity Agency of Washington County, Inc.
Details

Last Updated on Monday, 20 November 2017 18:17
Hits: 67880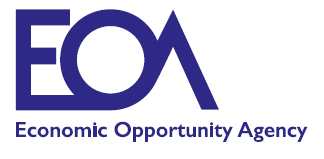 Economic Opportunity Agency of Washington County, Inc. provides services to 164 Head Start and 108 Early Head Start children and families in Washington County
For more information on this program, please contact:

Delia Anderson Farmer, Executive Director
614 East Emma, Suite M 401
Springdale, Arkansas 72764
Telephone: (479) 872-7479
Fax: (479) 872-7482
E-mail: dfarmer@eoawc.org

Lance Johnson, Head Start Director
P.O. Box 1823, 1643 East Huntsville Road
Fayetteville, Arkansas 72702
Telephone: (479) 521-5571
Fax: (479) 521-7809
E-mail:


MISSION
Empowering families to learn, connect, and succeed.
PHILOSOPHY
In 1965 Project Children's Services was created with the primary goal to provide economically disadvantaged children with the necessary medical, dental, and nutritional attention as well as experiences to encourage and stimulate intellectual and social growth. The creators of Children's Services recognized from the very start that parents/legal guardians are the primary educators of their children. Because of this belief, it is Children's Services philosophy that parents/legal guardians must be actively involved in all aspects of the program.
CENTRAL OFFICE STAFF
| | | |
| --- | --- | --- |
| Name | Title | E-mail |
| Delia Anderson Farmer | EOA Executive Director | |
| Lance Johnson | EOA Director of Children's Services | |
| Jeanne Stutzman | Assistant Director of Children's Services | |
| Renee' Wright | Education Lead | |
| Sarah Wendell | Family Services Coordinator | |
| Peter Cooper | Disabilities/Mental Health Coordinator | |
| Moises Manjarres | Health/Nutrion/Safety Coordinator | |
| Shawn Askew | Operations Assistant | |
| Edith Avellaneda | ERSEA Specialist | |
PROGRAM SNAPSHOTS
CENTERS
Program
Type

Center Name

Address Line 1

Address Line 2

City

State

ZIP

County

Congressional
District

Phone

Total Slots

Better Beginnings

EHS

Ivory M. Conley Head Start/Early Head Start Center

1225 S Wood Ave

P.O. Box 1823, Fayetteville, AR 72702

Fayetteville

AR

72701

Washington County

AR-003

(479) 571-4710

24

EHS

West Wash County Head Start

901 S Mitchell Ave

P.O. Box 1823, Fayetteville, AR 72702

Lincoln

AR

72744

Washington County

AR-003

(479) 824-5995

12

EHS

Children's House

2577 N Lowell Rd

Springdale

AR

72764

Washington County

AR-003

(479) 927-1232

32

EHS

Emma St. Head Start/Early Head Start

614 E Emma Ave

PO Box 1823 Fayetteville, AR 72702

Springdale

AR

72764

Washington County

AR-003

(479) 756-6040

24

EHS

Oak Ave. Head Start/Early Head Start Center

500 Oak Ave

P.O. Box 1823, Fayetteville, AR 72702

Springdale

AR

72764

Washington County

AR-003

(479) 751-4430

16

108
Program
Type

Center Name

Address Line 1

Address Line 2

City

State

ZIP

County

Congressional
District

Phone

Total Slots

Better Beginnings

HS

Ellen Smith Head Start Center

2052 S Garland Ave

P.O. Box 1823, Fayetteville, AR 72702

Fayetteville

AR

72701

Washington County

AR-003

(479) 443-1840

52

HS

Ivory M. Conley Head Start/Early Head Start Center

1225 S Wood Ave

P.O. Box 1823, Fayetteville, AR 72702

Fayetteville

AR

72701

Washington County

AR-003

(479) 571-4710

16

HS

West Wash County Head Start

901 S Mitchell Ave

P.O. Box 1823, Fayetteville, AR 72702

Lincoln

AR

72744

Washington County

AR-003

(479) 824-5995

16

HS

Children's House

2577 N Lowell Rd

Springdale

AR

72764

Washington County

AR-003

(479) 927-1232

32

HS

Emma St. Head Start/Early Head Start

614 E Emma Ave

PO Box 1823 Fayetteville, AR 72702

Springdale

AR

72764

Washington County

AR-003

(479) 756-6040

16

HS

Oak Ave. Head Start/Early Head Start Center

500 Oak Ave

P.O. Box 1823, Fayetteville, AR 72702

Springdale

AR

72764

Washington County

AR-003

(479) 751-4430

32

164
---------------------------------------------------------
Arkansas Better Beginnings Level Three
Arkansas Better Beginnings Level Two
Arkansas Better Beginnings Level One