Ozark Opportunities, Inc.
Details

Last Updated on Tuesday, 18 April 2017 01:59
Hits: 66471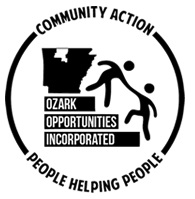 Ozark Opportunities, Inc. provides services to 262 Head Start and 48 Early Head Start children and families in Baxter, Boone, Marion, Newton, Searcy, and Van Buren Counties.
For more information on this program, please contact:

Richard Atkinson, Executive Director/Head Start Director
701 East Prospect/P.O. Box 1400
Harrison, Arkansas 72602
Telephone: (870) 741-9406
Fax:(870) 741-0924
E-mail:




MISSION STATEMENT:
Ozark Opportunities, Inc. Head Start program will strive to provide a safe, healthy environment in which every child has the maximum opportunity and support in developing to their full potential. The child's effectiveness in dealing with his environment will help foster social competence, which will aid with responsibilities in school and life. Social competence takes into account the interrelatedness of cognitive and intellectual development, physical and mental health needs, nutritional needs, and other factors that enable a child to function optimally.
VISION STATEMENT:
As a program of Ozark Opportunities, Inc., a Community Action Agency, the Head Start program will advocate, communicate, and partner at the community and state levels to enhance and ensure the provision of high quality outcome-oriented services to children and families.
VALUE STATEMENT:
Ozark Opportunities, Inc. Head Start Program beliefs are-All children birth through eight years have the right to be healthy and live in a safe nurturing environment; To recognize and support diversity; and A child's family is his or her primary teacher.

CENTRAL OFFICE STAFF
| | | | |
| --- | --- | --- | --- |
| First Name | Last Name | Current Position | Work E-mail |
| Richard 'Toby' | Atkinson | Executive Director/Early Child Hood Director | |
| Wanda | Nelson | Nutrition/Licensing/Facilities Coordinator | |
| Krystal | Mayes | Parent Engagement/Volunteer Coordinator | |
| Patricia | Murray | Disabilities Coordinator/Assist Class Staff Supervisor | |
| Ryan | Clayborn | Early Childhood Program Manager/Education/T/TA/ Coordinator | |
| Terri | Beard | ERSEA Coordinator | |
| Tawnya | Akins | Health/Mental Health Coordinator | |
| Melissa | Riggins | Operations Coordinator | |
| Jane | Bueg | Corporate Services Director | |
| Shirley | Richesin | Financial Director | |
| Brenda | Morris | Finance Assistant | |
| Jennifer | Bixler | Finance Coordinator | |
| Martha | Scroggins | Bookkeeper | |
PROGRAM SNAPSHOTS
CENTERS
Program
Type

Center Name

Address Line 1

Address Line 2

City

State

ZIP

County

Congressional
District

Phone

Total Slots

Better Beginnings

EHS

Mountain Home EHS

200 High Ave

Mountain Home

AR

72653

Baxter County

AR-001

16

EHS

Harrison Head Start Center

701 E Prospect Ave

PO Box 1400

Harrison

AR

72601

Boone County

AR-003

16

EHS

Clinton EHS

1367 Highway 95 W

PO Box 398

Clinton

AR

72031

Van Buren County

AR-002

(501) 745-6905

16

48

Program Type
Center Name
Address Line 1
Address Line 2
City
State
ZIP
County
Congressional District
Phone
Total Slots
Better Beginnings

HS

Norfork Head Start

215 Mildred Simpson Dr

Norfork

AR

72658

Baxter County

AR-001

(870) 499-5611

16

HS

Cotter Head Start

208 Lucille Street

PO Box 70

Cotter

AR

72626

Baxter County

AR-003

(870) 435-5040

16

HS

Mountain Home Head Start

1414 Post Oak Rd

Mountain Home

AR

72653

Baxter County

AR-001

(870) 425-2123

48

HS

Valley Springs Head Start

7349 School Street

PO Box 640

Valley Springs

AR

72682

Boone County

AR-003

(870) 429-5524

15

HS

Harrison Head Start Center

701 E Prospect Ave

PO Box 1400

Harrison

AR

72601

Boone County

AR-003

(870) 741-8757

80

HS

Yellville-Summit Head Start

1124 N Panther Ave

PO Box 296

Yellville

AR

72687

Marion County

AR-003

(870) 321-7437

15

HS

Bruno-Pyatt Head Start

4754 Highway 125 S

Everton

AR

72633

Marion County

AR-003

(870) 427-5661

15

HS

Western Grove Head Start

300 School St

Western Grove

AR

72685

Newton County

AR-003

(870) 429-8242

15

HS

Jasper Head Start

600 School St

PO Box 82

Jasper

AR

72641

Newton County

AR-003

(870) 446-5818

15

HS

St. Joe Head Start

250 S Highway 65

Saint Joe

AR

72675

Searcy County

AR-001

(870) 439-2210

13

HS

Shirley Head Start

154 School Dr

PO Box 196

Shirley

AR

72153

Van Buren County

AR-002

(501) 723-4301

13

261
-------------------------------------------------------------------------------
Arkansas Better Beginnings Level Three
Arkansas Better Beginnings Level Two
Arkansas Better Beginnings Level One